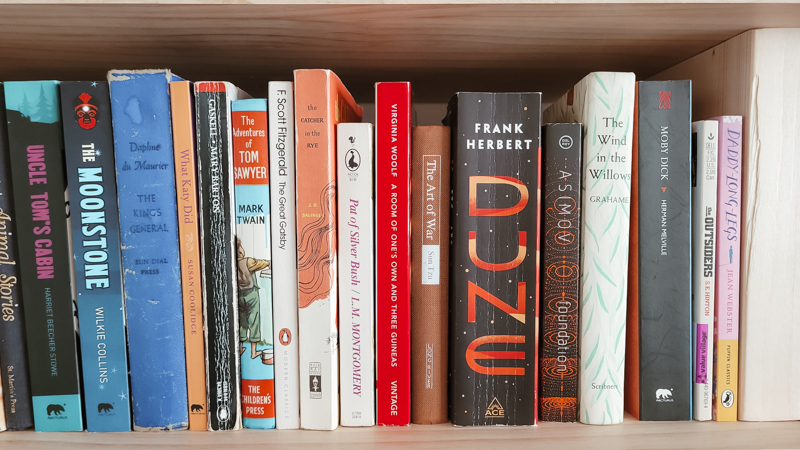 FIFTY CLASSICS I want to read before I die
Last year I made a list of 35 classics I wanted to read but my original goal was to make a list of 50 classics so I asked for some input.
Lots of comments were left on that video and I made some modifications and created a list of 50 classics that I want to read before I die.
I made a printable for the list of 50 but otherwise never officially shared the list, so here it is today!
In case you want the printable option, I have a blank one for you to fill in and build your own classics TBR:
Or you can use the one I made for myself:
Okay, let's get on to my Classics TBR!
MY CLASSICS TBR
Pride and Prejudice
Persuasion
Northanger Abbey
The Bird's Nest
Jane of Lantern Hill
Pat of Silver Bush
Agnes Grey
The Tenant of Wildfell Hall
Shirley
Mary Barton
Wives and Daughters
Cranford
Uncle Tom's Cabin
The Turn of the Screw
Far From the Madding Crowd
Jude the Obscure
The Woman in White
The Moonstone
Foundation
Dune
Moby Dick
The Pickwick Papers
The Mill on the Floss
Gone with the Wind
The Picture of Dorian Gray
The Importance of Being Earnest
My Cousin Rachel
The Doll: The Lost Short Stories
The King's General
All Things Bright and Beautiful
Fahrenheit 451
The Count of Monte Cristo
Les Miserables
The Outsiders
The Time Machine
Mrs. Dalloway
A Room of One's Own
I Capture the Castle
The Three Musketeers
The Hitchhiker's Guide to the Galaxy
Crime and Punishment
Eight Cousins
The Phantom of the Opera
The Hunchback of Notre Dame
Anna Karenina
Emily of Deep Valley
East of Eden
Kidnapped
For Whom the Bell Tolls
A Tree Grows in Brooklyn
Do you have a classic TBR? I would love to hear what is on your list!